NewGen Products, Your Valve Automation Specialist, have the Experience You Need for your Actuated Valve Packages. From Simple to Complex, No Challenge is Too Great for Our Team! If You Can Dream It, We Can Build It! On/Off, Modulating, Pneumatic, Electric, Electro-Hydraulic, Mechanical Fail-Safe, Battery Backup, Emergency Shut-Down, Safety Integrity Level (SIL), Offshore, Fast Acting, High-Cycle, High-Temp, Low-Temp, Redundancy, and Many More Special Applications.
SRU Tail Gas Valve Assembly​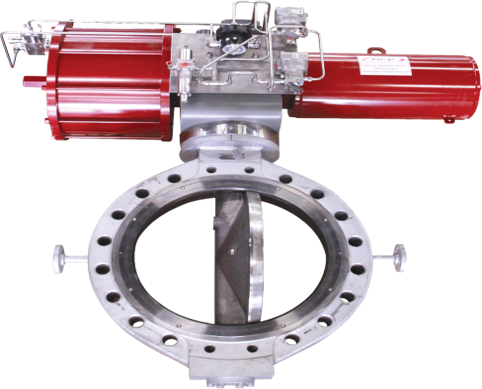 High Performance Butterfly Valve with Fully Welded Steam Jacket, Scotch-Yoke Fail-Safe Pneumatic Actuator, Digital Positioner, Limit Switches, Solenoids, Volume Booster, Quick Exhaust & Instrument Air Filter/Regulator.  TGV's are used to Divert Tail Gas from the Sulfur Recovery Unit (SRU) to the Tail Gas Treating Unit (TGTU) to remove residual sulfur from the tail gas before it is sent to the incinerator. The special steam jacket provides even heating to the valve body, disc & bearings to prevent elemental sulfur from precipitating inside the valve and rendering it inoperable.  We have hundreds of these packages installed in refineries worldwide working trouble-free for years.​
Trip Stop Valve Assembly​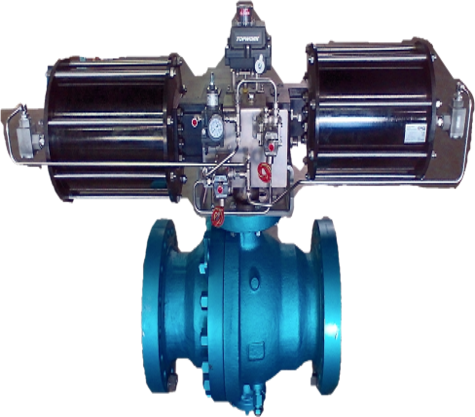 API 6D Trunnion Mounted Ball Valve with High-Speed Flat-Yoke Fail-Safe Pneumatic Actuator, Limit Switches, Redundant Solenoid Valves, Dual Quick Exhausts & Instrument Air Filter/Regulator. This mission critical valve assembly is the main gas supply shut-off valve to a natural gas fired power plant. This is designed to receive an ESD signal from the DCS when a fuel gas upset is detected downstream, and the high-speed actuator is configured to close the valve in less than (1) second.​
3-Way Electro-Hydraulic Fail-Safe​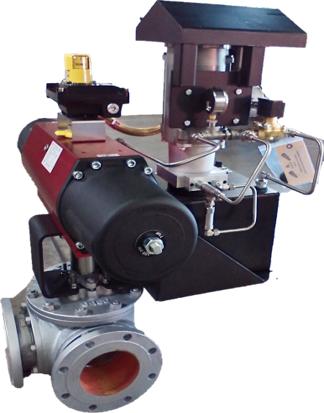 3-Way Port LACT Unit Switching Valve including full port L-Port floating ball valve with self-contained Electro-Hydraulic actuator that includes a reservoir, pump, motor and controls to mechanically drive the valve to the desired fail-safe position upon loss of power. These units are installed in areas where pneumatic power is not available, and electricity is the only method of operation.​
Emergency Shut-Down Valve​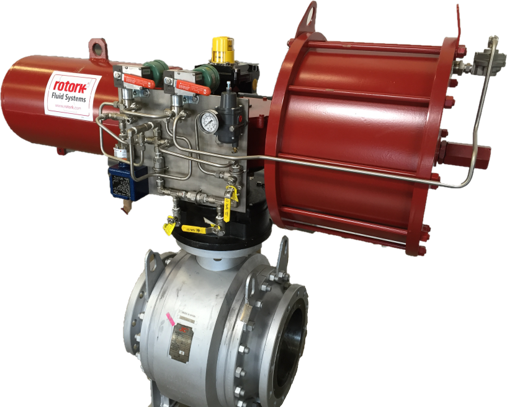 A shutdown valve (also referred to as SDV or emergency shutdown valve, ESV, ESD, or ESDV; or safety shutoff valve) is an actuated valve designed to stop the flow of a hazardous fluid upon the detection of a dangerous event. This provides protection against possible harm to people, equipment or the environment. Shutdown valves form part of a safety instrumented system. ​
Shutdown valves are primarily associated with the petroleum industry although other industries may also require this type of protection system. A safety shutoff valve should be fail-safe, that is close upon failure of any element of the input control system (such as temperature controllers, steam pressure controllers), air pressure, fuel pressure, current from a flame detector, or current from other safety devices such as low water cutoff, and high pressure cutoff.​
SharkTooth Control Valve​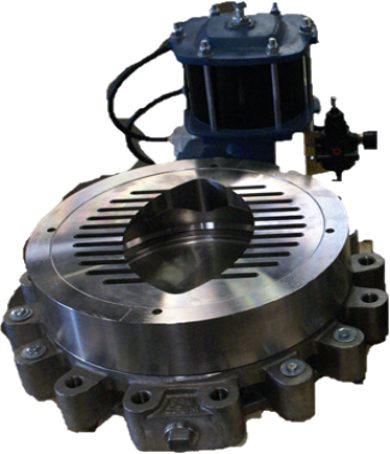 The Sharktooth Control Cartridge is used to convert standard butterfly valves into excellent control valves with characteristics equal to segmented ball valves or globe valves. Sharktooth Control Cartridges can be adapted to fit any butterfly valve, including rubber seated, high performance, and triple offset types to provide an equal percentage flow characteristic, plus noise and cavitation reductions not readily available in conventional rotary, and globe style control valves.​